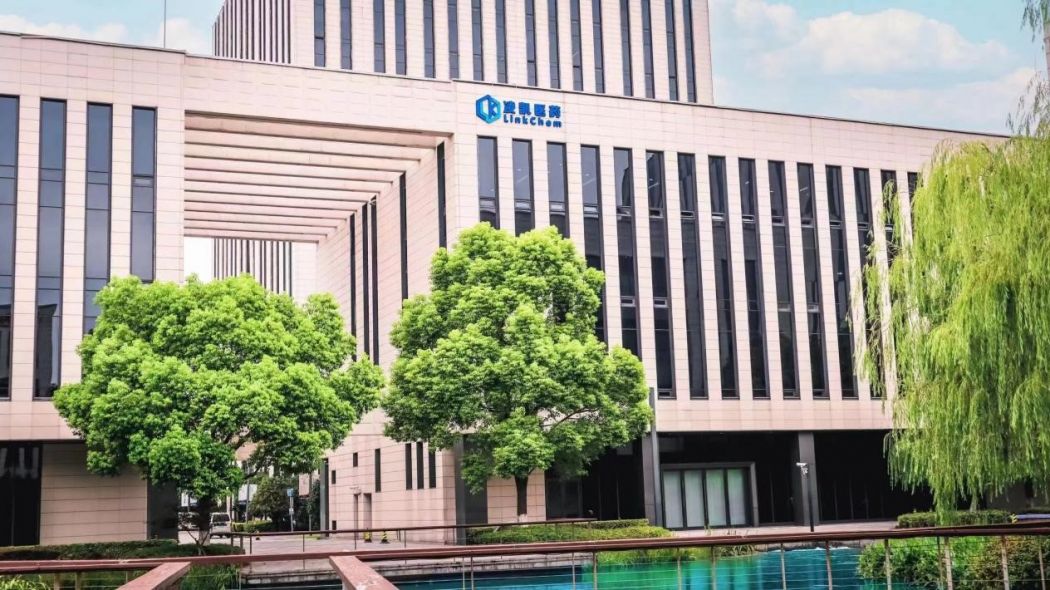 In the era of rapid development and innovation in major industries, the only way to occupy a leading position in both domestic and international markets is to be at the forefront of innovation and science as well as the whole-industry-chain approach. As a unicorn company with 16 years of experience in the fields of pharmaceuticals and new materials, LinkChem has been favored by the industry and capital, when extending its business from an R&D outsourcing firm to a commercial production and layout of the whole industrial chain since 2016.
On September 29, Huasun Technology (2022-051) announced that Hainan Huasun Xingrui Pharmaceutical Technology Co., Ltd. (hereinafter referred to as " Huasun Xingrui"), a wholly-owned subsidiary of Chengdu Huasun Technology Group Inc., LTD. (hereinafter referred to as " Huasun Technology") would invest with its own capital up to CNY 200,000,000 in LinkChem Co., Ltd. (hereinafter referred to as "LinkChem" or "the Subject Company") at a valuation of CNY 3.5 billion. Huasun Technology would hold 5.7143% of the shares of LinkChem through Huasun Xingrui after completing the funding.
LinkChem is a specialized pharmaceutical CRO and CDMO outsourcing service provider. After the company's investment in Shandong LinkChem to formally enter the CDMO industry, this investment enhances the company's industrial development foundation by strengthening the two-way in-depth cooperation between industry and capital with the controlling shareholders of Shandong LinkChem. The performance target commitment includes that LinkChem would achieve a cumulative net profit of no less than CNY 360 million from 2022 to 2024.

Key Financial Data
As a pharmaceutical CRO and CDMO service company, LinkChem develops in-depth cooperation with thousands of well-known pharmaceutical groups and innovative drug companies around the world by virtue of its specialization, scale and platform, and provides them with collaborative R&D and industrialization services of specialty APIs and advanced pharmaceutical intermediates.
LinkChem has built 1 corporate headquarter, 1 digital innovative compound platform, 2 research institutes, 1 wholly-owned green and intelligent pilot production base + 2 holding multi-functional production bases. In 2018, LinkChem passed the certification of high-tech enterprise and applied for a number of high-tech achievement transformation projects. Meanwhile, LinkChem was recognized as a "specialized, refined and new" enterprise in Shanghai and a key technology start-up enterprise in Pudong New Area. The company was accredited as a district-level R&D institution in Pudong New Area in 2021, and granted financial support for strategic emerging industries in Pudong New Area (13th Five-Year Plan) in 2022. (Note: As of the date of this announcement, LinkChem and Huasun Biotechnology hold 51% and 49% equity interests in Shandong LinkChem, respectively.)
Huasun Xingrui invested CNY 200,000,000 to subscribe for the increase in the registered capital of LinkChem by installments at a premium (the first phase of the capital increase of CNY 100 million will be completed within 7 working days from the effective date of the agreement, and the remaining capital increase of CNY 100 million will be completed no later than November 30, 2022), of which CNY 1,261,312 will be credited to the registered capital of the Subject Company, and the remaining CNY 198,738,688 shall be credited to the capital reserve of the Subject Company. All other existing shareholders of the Subject Company agreed not to subscribe for the capital increase. After the completion of the capital increase, Huasun Technology holds 5.7143% equity interest in the Subject Company through Huasun Xingrui.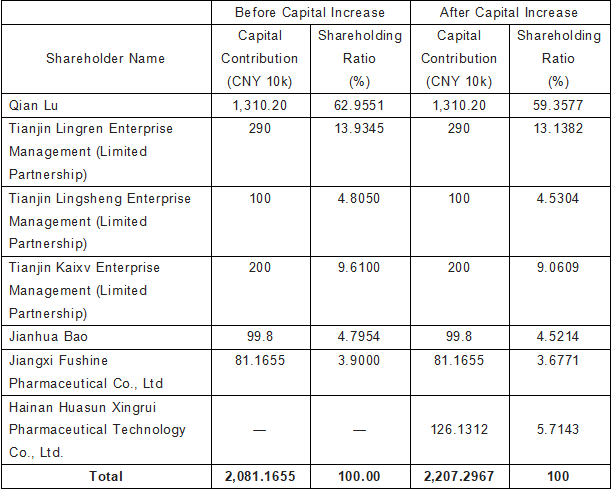 Changes in Shareholding Structure Before and After Capital Increase
With its start-up team established in 2006, LinkChem has become a leading R&D and industrialized high-tech company dedicated to total synthetic chemistry and flow chemistry technology. The headquarters and R&D center are located in Shanghai, and its three holding subsidiaries serve as incubation bases for R&D pilot projects and commercial production bases. LinkChem builds the strategic layout: 1. CMC innovative drug IND dual regulatory submissions in China and the USA, clinical phase I and II core intermediates delivery, generic drug registration and filing; 2. One-stop CRO, CDMO services for domestic and overseas innovative drug companies; 3. Self-developed products (LinkChem owns independent intellectual property rights), with following industries coverage: a. Pharmaceuticals: core intermediates (preclinical, phase I, phase II, phase III, commercialization stage) b: Advanced materials: screen display, integrated circuits, 5G communication, PI paste, photoresist, TPI, flexible circuit board, graphene structured thermal conductive materials and other cutting-edge new materials for technology development and commercial production layout; c: Animal and plant protection: pesticides and veterinary drugs and other core intermediates.
Reference: Huasun Technology http://www.huasungrp.com/news_view.aspx?nid=2&typeid=4&id=875